In April 2020, Kirin's new flagship brand Fuji will be sold to restaurants. With the increasing amount of time spent at home due to corona disaster, we expanded the sales channel from February 26, 2021 with the aim of having a wider range of customers enjoy whisky slowly and start selling at mass retailers nationwide. From October 2020, it has been available in 1,500 cavites (face-to-face liquor specialty stores unique to France) mainly in Paris.
The logo was also changed to coincide with the announcement of a new product called "Fuji". Because we want you to enjoy whisky more freely, it is a logo with three meanings of "F": "Fuji", "Freedom", and "Finest". The label is arranged with a light "Fuji" letter that settles in white, and the product name (FUJI) in English characters is layered to give a sense of depth, and by excluding excessive decoration, we pursued the beauty of subtraction like Japan. The bottom of the bottle is in the heart of Mt. Fuji, expressing the uniqueness of Japan.
1. Manufacturers
Kirin Distillery Co., Ltd.
| | |
| --- | --- |
| Established. | August 1972 |
| Headquarters address: | 〒412-0003 970 Shibata, Gotemba City, Shizuoka Prefecture |
| Owned Distillery | Fuji Gotemba Distillery |

2. Distillery
Fuji Gotemba Distillery
| | |
| --- | --- |
| Location | 〒412-0003 970 Shibata, Gotemba City, Shizuoka Prefecture |
| Start of operation | November 1973 |
August 1972 Kirin SeaGram Co., Ltd. was established through a joint venture between Kirin Brewery Co., Ltd. (Japan), JE Seagram Co., Ltd. (U.S.A.), and Seaverse Brothers Co., Ltd. (U.K.). November 1973 Completed fuji gotemba distillery and started production. February 1974 Domestic whisky "Robert Brown" released July 2002 Changed the company name to Kirin Distillery Co., Ltd. (becoming a wholly owned subsidiary of Kirin Brewery Co., Ltd.) September 2005 Domestic whisky "Kirin whisky Mt. Fuji foot barrel ripening 50°" "Kirin whisky Mt. Fuji foot single malt 18 years" released In March 2016, kirin whisky at the foot of Mt. Fuji blended in 2018 was released, and "Kirin whisky At the foot of Mt. Fuji barrel rye sake 50°" was released. August 2018: "Signature Blend" released at the foot of Mt. Fuji April 2020 Kirin Single Grain Whisky Fuji released
Located at the foot of Mt. Fuji, "Kirin Distillery Fuji Gotemba Distillery" is a rare whisky distillery in the world that consistently performs every year from malt whisky and grain whisky preparation to botling. We manufacture a wide variety of kirin group products, including whisky, mineral water, and can chuhai, in an abundant fuji underlying water, cool climate, fog that occurs many times throughout the year, and a blessed natural environment.
In February 2019, the Company invested approximately 8 billion yen to increase production facilities in preparation for further increase in whisky sales volume in the future. In order to manufacture a variety of malt whisky originals, four small fermentation tanks and four distillers were newly established to approximately double the raw sake production capacity and increase the storage capacity of barrels by approximately 20% due to the renewal and size of barrel aging warehouses. The company aims to have a production system that can stably supply high-quality whisky in the future. The plant is scheduled to start operations in June 2021.
Source: Kirin Distillery Co., Ltd. Official Website
Click here for information on Fuji Gotemba Distillery.
3. Product name and photo
Kirin Single Grain Whisky FUJI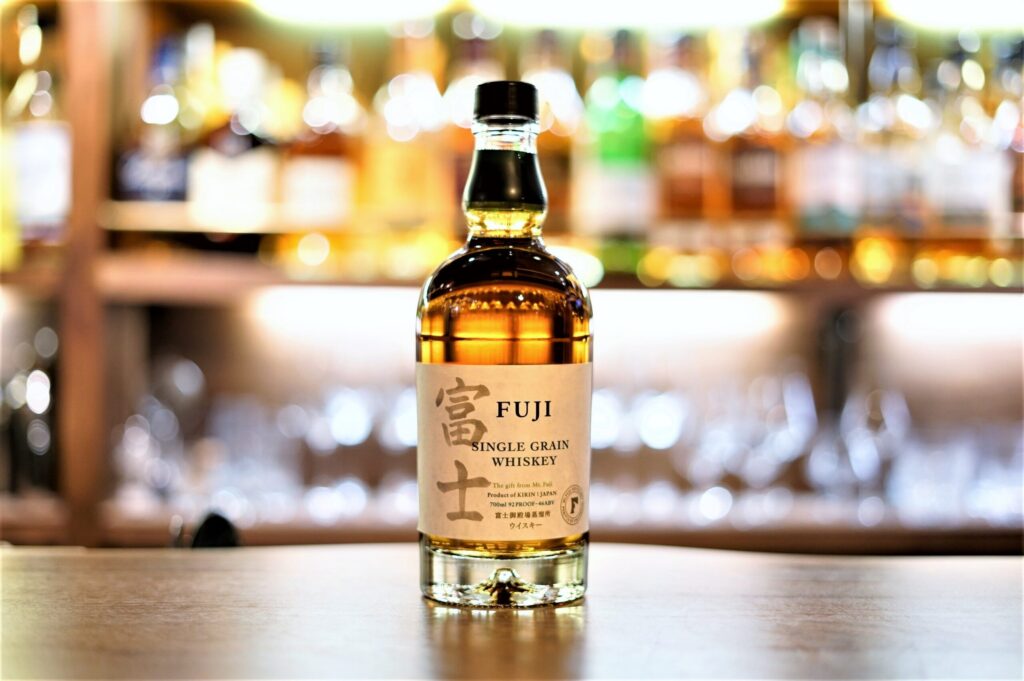 Tenso Japan
".[/speech_balloon_left1]
4. Features
Single grain whisky with three different flavors of grain original sake as keegren It uses only grain
whisky original sake from Fuji Gotemba Distillery, which is highly evaluated worldwide, and combines three types of grain original sake with different flavor types, making use of the flavor characteristics of each. It is a whisky characterized by a fruity fruit aroma and a flavor that you can feel orange and grape. It is a single grain whisky born from the combination of the technology and know-how that Kirin has cultivated and the nature of Fuji blessed with rich forests and water.
Three types of original sake are roughly separated by flavor type. The first is a light-type grain original sake with a gentle flavor using a continuous distillation machine multi-column. The second is a medium-type grain original sake with a rich and rich flavor, made with a batch distillation similar to a malt pot still distiller called a kettle distiller. The third is a heavy-type grain original sake of a gorgeous and heavy style by a doubler distiller developed for bourbon production. Each has an important role in rich individuality and blending, and it is a key grain that holds the key to taste.

4-1. Tasting Notes
| | |
| --- | --- |
| Scent | A slightly sweet and rich barrel incense (a sweet and fragrant fragrance reminiscent of pear tarts, baked goods, marlong lasse, high-quality brandy, etc.). While the gorgeous fruit aroma reminiscent of white grapes and orange peel is raised, you can also glimpse the fragrance that faintly recalls cinnamon and licorice. |
| Taste | It has a soft mouthfeam, with multi-layered flavors such as pear and apple compote, orange marmalade, raspberry jam and bitter chocolate, and a subtle spicy taste reminiscent of rye bread and cinnamon. |
| Lingering | Along with a gentle and slight sweetness, the pleasant woodiness and spicyness that make the incense tree feel faint continues comfortably as an aftertaste. |
Quote: Kirin Single Grain Whisky Fuji Official Website
4-2. Product Specifications
| | |
| --- | --- |
| Alcohol level | 46% |
| By Liquor | Grain |
| Barrel type | – |
| Contents | 700ml |
| Number of sales | – |
| Suggested retail price | 6,000 yen (excluding tax) |
| Release date | April 21, 2020 |
5. Awards
2020 Isc (International Spirits Challenge) Japanese Whisky Category "Gold"
6. Price
6-1. Manufacturer's suggested retail price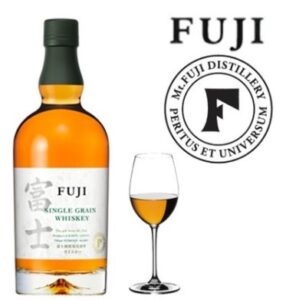 | | |
| --- | --- |
| Product name | Kirin Single Grain Whisky Fuji |
| Capacity | 700ml |
| Suggested retail price | 6,000 yen (tax included: 6,600 yen) |
6-2. Resale prices at Mercari
Resale prices at Mercari are around 4,000 yen to 5,000 yen. (*As of March 3, 2021)
6-3. Yahoo Auction Winning Bid Price
The current price at Yahoo Auction is 3,850 yen, up to 5,800 yen, average 4,508 yen (*as of March 3, 2021)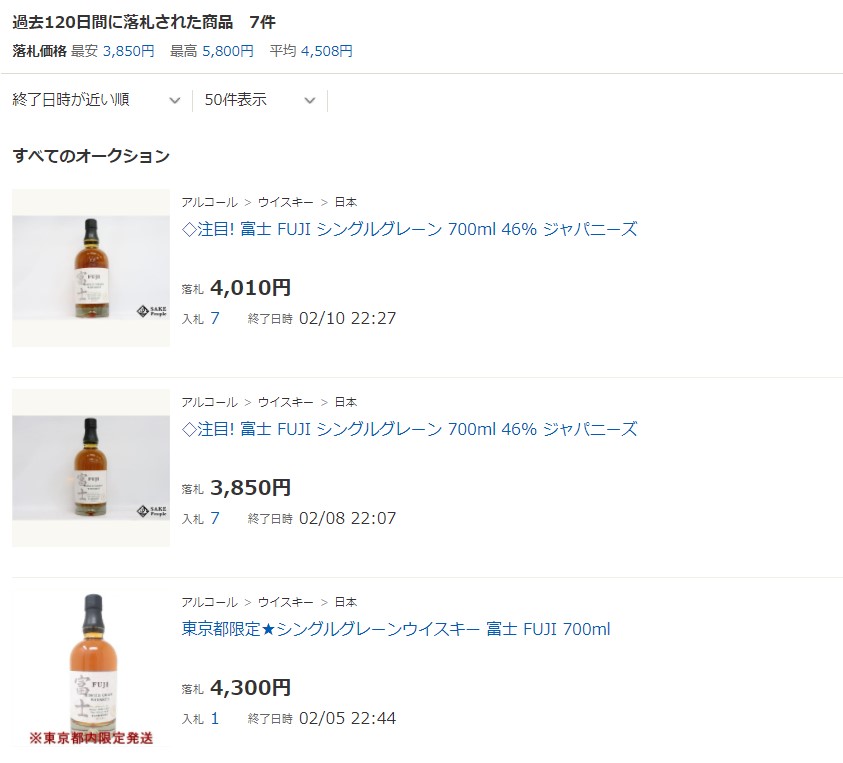 6-4. Rakuten, Yahoo Shopping, Amazon
It is also sold on mail order sites for around 5,000 yen to 6,000 yen. (*As of March 3, 2021)
Tenso Japan
".[/speech_balloon_left1]
6-5. Offered prices at BAR Shinkai
"BAR Shinkai" operated by this site offers one cup, 45 ml: 1,200 yen.
7. Summary
Originally, grain wine is called "silent spirits" that are gentle and taste the whole whisky. However, this single grain whisky Fuji has more personality and a firmer taste than I thought. When it is straight, the aroma is strong in sweetness, and it is characterized by a ripe and rich fruit aroma. The taste is a little spicy, but you can also feel the sweetness of bitter chocolate and the aroma like toast. When water is added, it becomes more gorgeous and fully open, and it changes to a fragrance with a good balance between the refreshingness of green apples and pears and the sourness such as orange peel. The taste also changes to a mellowness like a freshness, and you can feel the sweetness and aroma like baked goods. If it is a lock, the fruity sweetness will close a little, but while the bitter feeling remains, the barrel incense can be felt and it is delicious.
The recommendation is straight, but the way to drink recommended by the manufacturer is to put 30 ml in a wine glass, and if you put a small piece of ice, you can feel the soft taste with a refreshing fruit aroma, and then you can enjoy it more by changing to a double layered aroma. And has been commented.
It is a whisky that I would like you to drink by all means for those who have not been interested in grain whisky until now and those who are beginners in whisky. You may be surprised if you have such a personality even in Grain whisky.
北海道札幌市出身。
2005年、大手スポーツ用品販売チェーンに就職→2019年1月、BAR新海に就職しウイスキーの魅力に引き込まれ虜となる。
初めて飲んだウイスキーはアードベッグ10年。
ほぼ毎日ウイスキーを飲む中で更なる知識習得を目指し、ウイスキー検定2級とJC級(ジャパニーズクラフトウイスキー)を取得。
造り手の想いをしっかりと表現し、飲み手の方々に正しい情報を伝えたい。ウイスキーの魅力をたくさんの方に伝えたいという思いでウェブメディア「Japanese Whisky Dictionary」の編集を担当。