Blended Whisky "Gyokuto 2023 Edition". Released on Thursday, September 28 from Wakatsuru Shuzo and Saburomaru Distillery. Characteristics, price, and how to purchase.
Information about the release of the new product "Gyokuto 2023 Edition" and the "X present campaign" has been released on the official website and X (formerly Twitter) of Saburomaru Distillery.
Like last year's Gyokuto 2022, it is said to be a blended whisky made from various types of casks and blended into a gorgeous, fresh, sweetly-scented blended whisky, slightly different from the usual Saburomaru style.
The release date is 28 September 2023; the lottery application for the X present campaign will be open from 12:00 on Thursday 21 September until 23:59 on Wednesday 27 September.
1. How to purchase
To make a purchase, you must register as a member of "Me and ALC". You will need to enter your member customer ID when you make a reservation, so please register in advance. Click here for the member registration page.
Click here for the purchase page. *The page will not be displayed until Thursday 28 September, 12:30.
Sales start: Thursday, September 28, 12:30 p.m.
2. X (formerly Twitter) Present Campaign
■Gift Contents
One lucky winner will receive "Gyokuto 2023 Edition"
■How to apply
1) Follow "@SaburomaruD", the official X account of Saburomaru Distillery.
2) Retweet the "campaign tweet" by Wednesday, 27 September 2023, 23:59.
*Those under 20 years old are not eligible to participate in the campaign.
■Announcement of winners
On Friday, 29 September 2023, the Management Office will send notification of the winners and the URL of the shipping address registration form to the winners only via Twitter DM (direct message).
*The winners will be dispatched on or after Monday 2 October 2023.
3. Characteristics of the Gyokuto 2023 Edition.
Product concept : Using Saburomaru Distillery's 2020 distilled and bourbon cask-matured original and 2017 distilled and sherry cask-matured original as key malts, this is a luxurious blend of original whiskies matured in a variety of casks, including Richer French oak casks and domestic winery red wine casks.
The result is a gorgeous, fresh, sweetly-scented blended whisky that is slightly different from the usual Saburomaru style.

Sales area: Nationwide, overseas

Reference: Release of "Gyokuto 2023 Edition" blended whisky using Saburomaru malt and original sake aged in a variety of casks | Saburomaru Distillery
| | |
| --- | --- |
| Product name | Gyokuto 2023 Edition |
| Sake type | Blended whisky |
| Ingredients | Malt, Grain |
| Casks | Bourbon casks, sherry casks, rich French oak casks, red wine casks |
| Number of bottles | Limited to 7,500 bottles |
| Strength | 46% (with a slight alcohol content) |
| Price | Suggested retail price: 7,678 yen (tax included) |
| Manufactured at | Saburomaru Distillery |
| Manufacturer | Wakatsuru Shuzo Co. |
4. About Saburomaru Distillery
The only distillery in Hokuriku, established in 1952.
Amidst the postwar rice shortage, the distillery obtained a license to produce whisky in 1952. Since then, they have been brewing sake in winter and distilling whisky during the rest of the year. They make 200 bottles of whisky a year. Plans are underway to make 300 bottles in the future.
Since the beginning, they have been focusing on smoky whisky, using Islay peated malt and recently peated malt from Toyama Prefecture. To preserve the natural flavor, no cooling filtration or coloring is used.
In 2018, we installed a state-of-the-art mash tun from Miyake Seisakusho.
In 2019, we collaborated with a local company, Oigo Seisakusho, to develop a cast pod still, "ZEMON".
In 2020, one wooden vat fermenter was installed.
The main difference from other distilleries is the use of "ZEMON", the world's first cast pod still.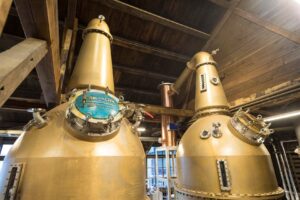 There are three major features.
(1) The casting method enables molding with a mold for quick delivery. Also, it is possible to add sufficient wall thickness at a low cost, which increases the service life of the bottle.
(2) Free molding by the casting method allows for various types of sake quality. Also, by unitizing the parts, it is possible to replace only worn parts or expand the functions.
(3) Made of a copper-tin alloy containing about 90% copper and 8% tin. Tin is a high-grade metal that is traded at about three times the price of copper.

Tin has been used since ancient times to mellow the taste of sake and has been used in sake vessels and shochu coolers. ZEMON contributes to the production of high quality spirits through the dual effects of copper and tin.
Reference: Wakatsuru Shuzo official website
5. Blended Whiskies from Saburomaru Distillery released in the past