"The Lucky Cat" is a series of blended whiskies featuring cats with rich personalities, created using the blending techniques of Mars Whisky.
The series was started in honor of the cat-loving president of the Honbo Shuzo, and is the eighth in the "Lucky Cat series", which has been on sale since 2015.
The motif of this new series is based on the oldest cat, Mei, who appeared in the fourth series, and the newcomer, Luna, who appeared in the previous series, the seventh series. This is the first time that more than one cat has appeared in this series. The two cats with different personalities are matched with the whisky's personality, and the blended whisky seems to have an "aroma from the use of cherry casks" and a "peppery taste" that follows afterwards.
Lottery applications for this product are now open on the official Hombo Shuzo mail order website. Don't forget to apply for this series of products, which are popular and sell out immediately every time.
Limited to 8,430 bottles at a suggested retail price of 5,280 yen.
1. Web lottery application
Click here for the official Hombo Shuzo mail order website WEB lottery application form
Application period: Monday, February 20, until 10:00 a.m.
Announcement of winners: Only winners will be notified by e-mail of purchase procedures by Friday, February 24. No notification of unsuccessful applicants will be made.
Multiple entries for the same product will all be disqualified.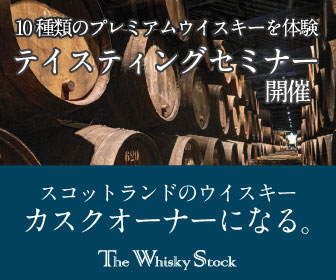 2. The Lucky Cat Double Individuals May & Luna
"The Lucky Cat Double Individuals May & Luna", the eighth in the series, is based on the motif of the oldest cat, May, and the newcomer, Luna, and is a blended whisky that harmonizes the two individualities, with an aroma derived from cherry casks and a peppy taste that follows later.

k.Hombo: "Our elder cat Mei and the newcomer Luna, two cats who are the most difficult to deal with. May seems to dislike Luna, but recently they have been getting closer little by little. The theme for this year's issue is a blended whisky with an aroma derived from cherry casks and a peppery taste that follows. As the owner, I hope that May and Luna will become like the two animals depicted on the label, just like this whisky, which harmonizes two different personalities."
*This product uses some imported original whisky.

Reference: Blended Whisky|The LuckyCat Double Individuals May & Luna|Honbo Shuzo Co.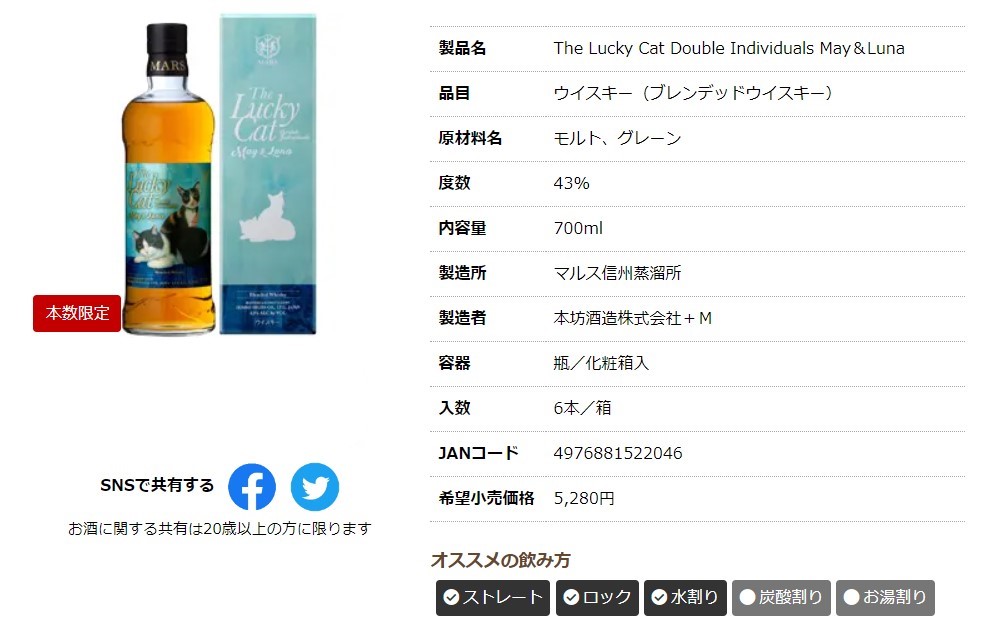 | | |
| --- | --- |
| Product name | The Lucky Cat Double Individuals May & Luna |
| Sake type | Blended Whisky |
| Ingredients | Malt, Grain |
| Casks | Cherry casks, etc. |
| Number of bottles sold | Limited to 8,430 bottles |
| Strength | 43% |
| Volume | 700ml |
| Price | 5,280 yen (tax included) |
| Producer | Honbo Shuzo Co.+M |
3. About Mars Shinshu Distillery
The Honbo Shuzo, which had been striving to make "shochu", a Japanese distilled spirit, in Kagoshima, obtained a license to produce whisky in 1949. Since then, the company has held on to the dream of "someday making real whisky that takes full advantage of the Japanese climate."
After several years of whisky production in Kagoshima, in 1960, he established the "Mars Yamanashi Winery", a factory for wine and whisky production in Yamanashi. Then, in order to engage in whisky production in earnest, he searched for an even more ideal location.
The natural conditions for whisky making are very demanding: cold climate with clean air, moderate humidity, and good quality water.
In 1985, after searching for land that met these conditions, Mars Shinshu Distillery was established at an altitude of 798 meters at the foot of Komagatake Mountain in the Central Alps, Nagano Prefecture, in search of the best environment for whisky production.
In 1992, the distillation was suspended due to a slump in demand for whisky. Later, as Japanese whisky began to gain worldwide recognition, the company decided to resume distilling in 2009, when demand for whisky was recovering, and started again in February 2011.
In September 2020, the distillery underwent a complete renewal for the first time in 35 years. The investment will be approximately 1.2 billion yen.
From May 2019, a new whisky distillation building (including a barrel cellar) will be built to renovate aging facilities, improve the barrel cellar facilities with an eye to increasing whisky production, and provide tours of the whisky making process, as well as a visitor building to sell original whisky and goods.
The new whisky distillation building has a total floor area of 1,996m2 (including the barrel cellar, which will hold approximately 2,500 barrels), and the visitor's building has a floor area of 746m2.
Reference: Hombo Shuzo official website
4. Past lineups of the Lucky Cat series
マルス
¥16,800
(2023/03/20 20:46:59時点 Amazon調べ-
詳細)

¥16,000
(2023/03/20 20:46:59時点 楽天市場調べ-
詳細)
Lastly: Recommended Books on Japanese Whisky
If you want to learn more about Japanese whisky, which is a global trend, we highly recommend these books.
In the December 2021 issue of Whisky Galore, published by the Whisky Culture Research Institute, we report on 11 Japanese craft distilleries, including some that are open to the public for the first time, under the title of "Japanese Whisky Craft Frontline," the first of three consecutive issues. Why did the popularity of Japanese whiskey and the craft boom occur? We will examine with interviews. Chichibu Distillery / Chichibu No.2 Distillery / Mars Shinshu Distillery / Mars Tsunuki Distillery / Kanosuke Distillery / Hioki Distillery / Ontake Distillery / Osuzuyama Distillery / Kaikyo Distillery / Hanyu Distillery / Konosu Distillery
This is a book written by Mamoru Tsuchiya, a world-famous whisky critic and representative of the Whisky Culture Research Institute, titled "Japanese Whisky as a Culture that Works for Business" .
The book covers the basics of whisky, the introduction of whisky to Japan, the birth of Japanese whisky, advertising strategies and the rise of Japanese whisky, and the current rise of craft distilleries. This is a book that summarizes Japanese whisky in a very easy to understand way.
Masataka Taketsuru, the founder of Nikka Whisky, devoted his life to brewing whisky in Japan. This is a revised and reprinted version of the autobiography of a man who simply loved whiskey and talked about himself. The book vividly depicts the days when he went to Scotland alone to study as a young man and overcame many hardships to complete Japanese whisky, as well as his companion, Rita.
Launching in 2019. With the world experiencing an unprecedented whisky boom, what were the managers of craft distilleries thinking and what were their thoughts as they took on the challenge of making whiskey? This book tells the stories of 13 craft distillery owners, including Ichiro Hido of Venture Whisky, famous for his Ichirose Malt, who inspired the birth of craft distilleries in Japan.
This is the Japanese version of Whisky Risng, published in the US in 2016, with much updated content. Not only does it describe the history of Japanese whiskey in detail, but it also includes data on all the distilleries in Japan, including the craft distilleries that have been founded in recent years. The book also includes descriptions of the legendary bottles that have been released, as well as information on bars where Japanese whisky can be found.