We have received information on the release of a new product from Komasa Kanosuke Distillery Co.
The name of the product is "Single Malt Kanosuke Artist Edition #001" . It will not be sold at the store in the Kanosuke distillery or on the web, but will be sold exclusively at liquor stores nationwide that carry the Komasa Brewery's special shochu "KuranoShikon".
1. Single Malt Kanosuke Artist Edition #001
The "Artist Edition" is inspired by the "Five elements thought" , which is deeply rooted in Japanese people's lives, and is based on the concept of the five elements of wood, fire, earth, metal, and water, with original label designs by artists who are active in various fields. The series will be released once a year in limited quantities.
The first one, "Single Malt Kanosuke Artist Edition #001" is the first full bottle of 2022 Kanosuke Distillery. Several casks were carefully selected from American white oak and litchi casks that were brewed with non-piped malt from England and aged with the sea breeze as a lullaby.
The motif's five elements philosophy is "wood" . The label was designed by Mariko Hirasawa, an illustrator. It depicts an oak tree stretching powerfully toward the sky in gentle tones.
Comment from Mariko Hirasawa
I painted an oak tree that grows strongly from the earth of Kagoshima to the sky.
The whisky was born in Europe and is now growing healthily in this region.
And not only for men, but also for women who live like this tree.
The color of the product is gentle, with the hope that you will hold it in your hand.
(Wood in the Yin-Yang Five Elements is said to be represented by the color green or light blue.)
| | |
| --- | --- |
| Product Name | Single Malt Kanosuke Artist Edition |
| By Sake | Single malt Japanese whiskey |
| Ingredients | Malt |
| Cask type | American white oak, Richer cask |
| Number of bottles | Limited quantity |
| Number of units | 50%  |
| Price | Suggested retail price: 14,850 yen (tax included) |
| Manufactured at | Kanosuke Distillery |
| Manufacturer | Komasa Kanosuke Distillery Co. |
2. How to purchase
As mentioned above, it is not sold in the Kanosuke Distillery store or on the web, but is sold exclusively at liquor stores nationwide that carry the Komasa Brewery's special contract shochu "KuranoShikon". Some stores may or may not carry it, but we are unable to introduce you to stores that do.
For a list of stores that carry Kura no Shikon, please click here.
About the Kanosuke Distillery
The Kanosuke Distillery began operations in 2017.
It stands on a spacious site of approximately 9,000 m2 along Fukiage beach on the west coast of Kagoshima Prefecture and is dotted with various facilities. The U-shaped, two-story main building houses distilling facilities, a bar with a great view, and a store selling original goods, allowing visitors to experience the whisky-making process up close and personal.
The major features of the Kanosuke Distillery are The distillery is equipped with three pot stills (distillers). The thing is that. The capacities of each distillery are 6000 L, 3000 L, and 1600 L. Worldwide, craft distilleries (small distilleries) generally have two distilleries. Whisky is usually distilled twice, and Kanosuke Distillery uses pot stills with different neck shapes and angles of the upper line arm during the second distillation (redistillation) to create a variety of aromas and flavors in the original spirit.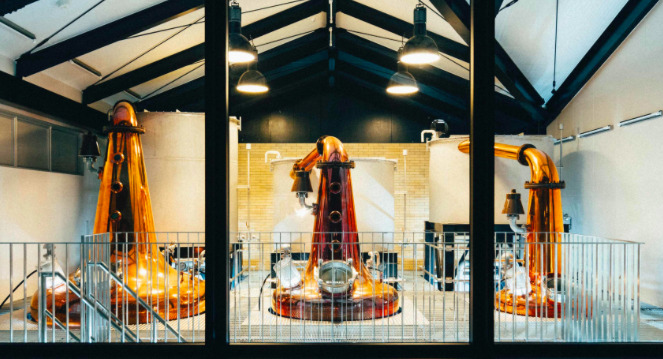 Image Exhibit:
Kanosuke Distillery Official Facebook[
/caption]
4. Single Malt Kanosuke Lineup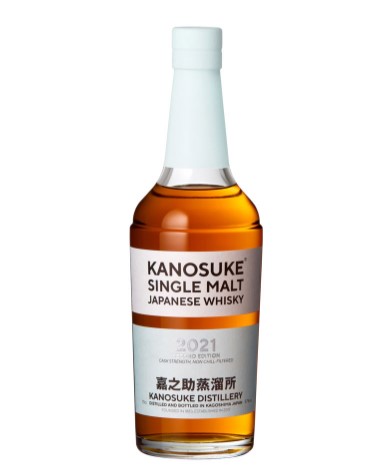 "Single Malt Kanosuke 2021 SECOND EDITION" is a single malt Japanese whiskey produced at the Kanosuke Distillery in 2018. It is made with non-peat malt and aged in bourbon casks as the key ingredient, vatted in multiple casks and bottled at cask strength.
The sea breeze that blows at the Kanosuke Distillery grows cooler day by day as it spends a gentle time maturing.
Please enjoy the elegant sweetness and bitterness of the wine, matured in the softness of the sea breeze. (From the manufacturer's website)
嘉之助
¥29,800
(2023/06/05 17:33:03時点 Amazon調べ-
詳細)
4-2. Single Malt Kanosuke 2021 FIRST EDITION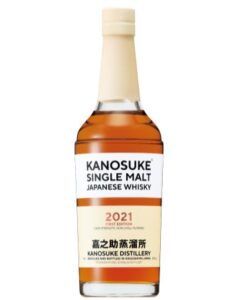 Single Malt Kanosuke 2021 FIRST EDITION is our first single malt Japanese whisky produced at the Kanosuke distillery in 2017-18.
Non-peat malt is used, and the key ingredient is the same American white oak rich cask used for our barrel-aged rice shochu "Mellowkozuru" .
Finally, our Japanese whiskey journey has begun. (From the manufacturer's website)

¥29,942
(2023/06/05 21:31:03時点 楽天市場調べ-
詳細)
Lastly: Recommended Books on Japanese Whisky
If you want to learn more about Japanese whisky, which is a global trend, we highly recommend these books.
In the December 2021 issue of Whisky Galore, published by the Whisky Culture Research Institute, we report on 11 Japanese craft distilleries, including some that are open to the public for the first time, under the title of "Japanese Whisky Craft Frontline," the first of three consecutive issues. Why did the popularity of Japanese whiskey and the craft boom occur? We will examine with interviews. Chichibu Distillery / Chichibu No.2 Distillery / Mars Shinshu Distillery / Mars Tsunuki Distillery / Kanosuke Distillery / Hioki Distillery / Ontake Distillery / Osuzuyama Distillery / Kaikyo Distillery / Hanyu Distillery / Konosu Distillery
¥1,320
(2023/06/05 19:36:31時点 Amazon調べ-
詳細)
This is a book written by Mamoru Tsuchiya, a world-famous whisky critic and representative of the Whisky Culture Research Institute, titled "Japanese Whisky as a Culture that Works for Business" .
The book covers the basics of whisky, the introduction of whisky to Japan, the birth of Japanese whisky, advertising strategies and the rise of Japanese whisky, and the current rise of craft distilleries. This is a book that summarizes Japanese whisky in a very easy to understand way.
Masataka Taketsuru, the founder of Nikka Whisky, devoted his life to brewing whisky in Japan. This is a revised and reprinted version of the autobiography of a man who simply loved whiskey and talked about himself. The book vividly depicts the days when he went to Scotland alone to study as a young man and overcame many hardships to complete Japanese whisky, as well as his companion, Rita.
Launching in 2019. With the world experiencing an unprecedented whisky boom, what were the managers of craft distilleries thinking and what were their thoughts as they took on the challenge of making whiskey? This book tells the stories of 13 craft distillery owners, including Ichiro Hido of Venture Whisky, famous for his Ichirose Malt, who inspired the birth of craft distilleries in Japan.
This is the Japanese version of Whisky Risng, published in the US in 2016, with much updated content. Not only does it describe the history of Japanese whiskey in detail, but it also includes data on all the distilleries in Japan, including the craft distilleries that have been founded in recent years. The book also includes descriptions of the legendary bottles that have been released, as well as information on bars where Japanese whisky can be found.