Ichiro's Malt, a whisky that has been awarded the world's best whisky at the World Whisky Awards, is popular in Japan and around the world.
The Chichibu distillery, a venture whisky founded by Ichiro Akuto, grandfather of the distillery's founder, started operations in February 2008 and is making single malt whisky rooted in the Chichibu climate.
1.Manufacture
Venture Whisky Co.
| | |
| --- | --- |
| Establishment | 2004 |
| Head office | 49 Midorigaoka, Chichibu-city, Saitama 〒368-0067 Japan |
| Distilleries owned | Chichibu Distillery, Chichibu No.2 Distillery |
2.Distillery
Venture whisky Chichibu distillery
| | |
| --- | --- |
| Location | 49 Midorigaoka, Chichibu-city, Saitama 〒368-0067 Japan |
| Start of Operations |  2007 |
Founded in September 2004.
The Chichibu distillery was completed in 2007.
In February 2008, the license to make whisky was granted and it started making whisky at the Chichibu distillery.
There, single malt whisky making is rooted in the Chichibu climate.
The founder of the distillery, Mr. Ichiro Akuto, takes pride in producing Japanese whisky, using small mills, mash tuns, Mizunara fermenters and Scottish Forsyth pot stills to produce malt whisky by hand.
The area around the Chichibu distillery is rich in nature, the air is clean and the water is of good quality. The climate is hot and humid in summer and cold, with temperatures reaching freezing in the morning and evening. This harsh climate has a profound effect on the maturation of the whisky, resulting in a fruity and balanced whisky despite the short maturation period.
image source:  CHICHIBU Distillery Official Face Book page
For more information on the Chichibu distillery, please see here↓.
3. Product Name and Photo
Ichiro's Malt CHICHIBU THE PEATED 2018
4.Features
Complex flavor that change their shape repeatedly in the glass
The malting process uses peat to dry the malted barley, which gives it a strong smoky character. It has a heavy peaty aroma, with a sweetness and acidity that is similar to that of an unripe banana.
The balance between smoky and fruity is well, and the addition of water softens the aftertaste. The smokiness of the nose is very attractive and addictive. This is a non-chill filtered, natural colored bottling to allow you to enjoy the character of the raw materials.
4-1. Tasting notes
fragrance
Caramel, vanilla, smoky, fruity, minty and refreshing.
Taste
Fruity, sweet, herbal, spicy, peaty, bitter. 
Rich, creamy texture.
Aftertaste
Smoky, bittersweet, cool and refreshing. Deep and long aftertaste.
4-2. Product specification
| | |
| --- | --- |
| Alcohol content | 55.5% |
| Classification | Single malt whisky, single cask whisky |
| Cask type | ー |
| Volume | 700ml |
| Number of bottles sold | Limited to 11,550 bottles |
| Suggested retail price | 13,200 yen (tax included) |
| Release date | December 2018 |
5. Awards
There are no awards at present.
6. Price
6-1. Manufacturer's suggested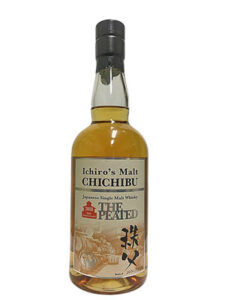 | | |
| --- | --- |
| Product Name | Ichiro's Malt CHICHIBU THE PEATED 2018 |
| Volume | 700ml |
| Suggested retail price | 13,200 yen (tax included) |
6-2. Resale prices at Mercari
Resale prices at Mercari are around 20,000 yen to 60,000 yen. (*As of April,16, 2021)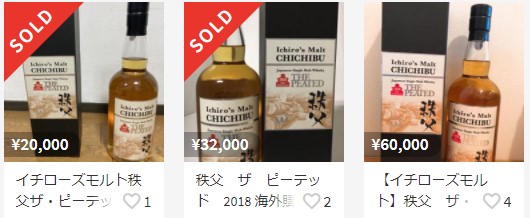 6-3. Yahoo Auction Winning Bid Price
The winning bid price at Yahoo Auction is 28,500 yen, up to 39,800 yen, average 34,363 yen (*Statistical information for the past 120 days from April 16, 2021)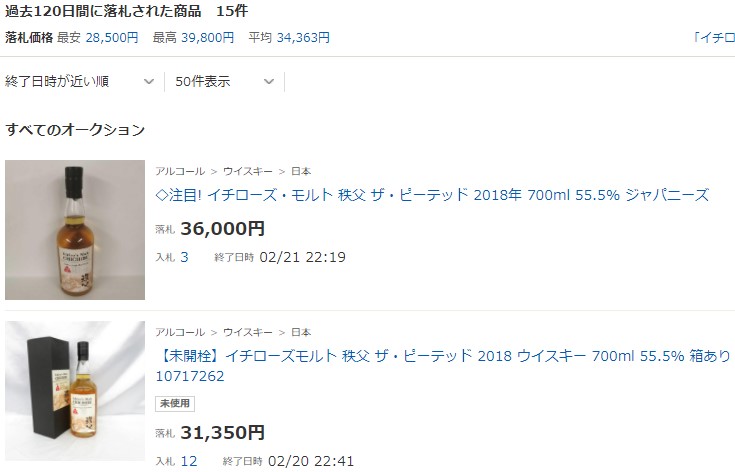 6-4. Rakuten, Yahoo Shopping, Amazon
It is also sold on mail order sites for around 65,000yen. (*As of April 16, 2021)
6-5. Offered prices at BAR Shinkai
At "BAR SHINKAI", which is operated by our website, we offer a single glass, 45ml: 4,620 yen, 30ml: 3,080 yen, 15ml: 1,540 yen.
7. Summary
This whisky is a well-balanced batting of various unique malts and grains matured in Chichibu. It is an all-round whisky that can be enjoyed on the rocks, with water or with soda.
This whisky celebrates the 10th anniversary of the Chichibu distillery, and we hope you enjoy it at Bar SHINKAI !!
For more information about Ichiro's Malt, please check out our other articles.