A new product was released by Honbo Shuzo on March 26, 2021.
Information about the product was posted on the official website on March 26. This product seems to be wholesaled only to a few sake retailers, and is not available at the Honbo Shuzo online store. It is expected that the product will be sold through online stores of sake retailers in the future.
What is IWAI Tradition?
Speaking of the birth of the first whisky distillery in Japan, you probably know that Suntory's Yamazaki Distillery was started by Masataka Taketsuru with Shinjiro Torii. It was Settsu Shuzo (President Kihe Abe and Managing Director Kiichiro Iwai) who sent Masataka Taketsuru to Scotland to study whisky production in 1918.
After returning to Japan, Masataka Taketsuru, who had learned about whisky making, submitted the Taketsuru Note (whisky training report) to his boss, Kiichiro Iwai, which became the starting point for domestic whisky. At Settsu Shuzo, whisky production was halted due to financial difficulties caused by the postwar depression, and Masataka Taketsuru left the company. He then joined Kotobuki-ya (now Suntory). Suntory established Japan's first whisky distillery, the Yamazaki Distillery.
Meanwhile, Kiichiro Iwai became an advisor to Honbo Shuzo in 1945 and obtained a whisky manufacturing license in Kagoshima in 1949. Honbo Shuzo's Mars Whisky was born.
Mars Whisky launched a product named "IWAI TRADITION" as a sign of respect and gratitude to its creator, Kiichiro Iwai.

¥2,398
(2023/06/01 15:23:40時点 楽天市場調べ-
詳細)
Blended whisky with additional maturation in sherry casks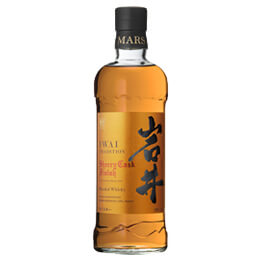 IWAI Tradition Sherry Cask Finish is a blended whisky made by adding additional maturation (finishing) to the Iwai Tradition described above in the empty casks used for the ultra-sweet Pedro Ximenez sherry. In addition to the rich flavor of IWAI Tradition, this whisky has a well-balanced aroma of brown sugar, maple syrup, and elegant sweetness derived from sherry casks.
(Reference: Blended Whisky / IWAI Tradition Sherry Cask Finish|Hombo Shuzo Co.)
| | |
| --- | --- |
| Product Name | IWAI Tradition Sherry Cask Finish |
| Classification | Blended whisky |
| Ingredients | Malt, Grain  |
| Cask Type | Sherry Cask Finish |
| Quantity | Limitid |
| Alcohol content | 40% |
| Price | Suggested retail price  2,970 yen (Including tax) |
| Manufacturer Distillery | Mars Shinshu Distillery |
| Manufacturer | Honbo Shuzo Co. |
Sherry casks are famous in Scotch, such as Macallan and Glendronach, and are also used in Japan by the Yamazaki distillery, but not many sherry casks are used in Pedro Ximenez, which is the sweetest sherry. It will be very interesting to see how the sherry cask finish turns out this time.
For more information on the IWAI Tradition Wine Cask Finish, which is also seasonal, please see the article ↓ here ↓.
About Honbo Shuzo Mars Shinshu Distillery
Single Malt Komagatake Yakushima Aging is distilled at Honbo Shuzo's Mars Shinshu Distillery in Nagano Prefecture, which started operations in 1985 and was renovated in 2020 to refurbish aging facilities and improve barrel storage facilities in anticipation of increased whisky production.
The renovation includes a whisky distillery building where visitors can observe whisky production, a spacious bar, and a new visitor building where original whisky and goods can be purchased. If you are a fan of Mars whisky, you should visit the distillery at least once.