On January 19, 2021, Suntory announced a news release for the Hakushu 12-year res sale (March 30).
"Hakushu 12 years" limited quantity re-release
Suntory Spirits Co., Ltd. will re-release Suntory single malt whisky "Hakushu 12 years" in limited quantities nationwide from Tuesday, March 30.
In 1973, we opened the Hakushu Distillery in a place surrounded by vast nature at the foot of Mt. Kai-Komagatake in the Southern Alps as the second whisky production base after Yamazaki Distillery. It is also called a "forest distillery" because it is located in a high altitude that is rare in the world, and because of natural conditions such as water and climate, and differences in facilities such as washbacks and distilleries, we create original sake with different individuality from Yamazaki Distillery.
By re-launching Hakushu 12 Year Old, the brand's original single malt whisky that was created in 1994 as the second single malt whisky after Yamazaki, in limited quantities, we aim to strengthen the appeal of the Hakushu brand and the quality value of Suntory whisky.
●About the inside and the package
It is a single malt whisky made by carefully selecting malt raw spirits that are more than 12 years old from the Hakushu distillery. It is characterized by a refreshing fresh green and fruit aroma with a sweet and soft smoky aroma, and a fruity, full-bodied, and crisp finish. For the package, handmade Echizen washi paper was used for the label, expressing the sense of quality derived from the "forest distillery. In addition, the English letters on the label have been changed to green, the brand color, to express the freshness of the forest. The product will be sold in a green carton with the word "Hakushu" in large letters for home use.
Source: Suntory Single Malt Whisky "Hakushu 12 Years" Limited Release January 19, 2021 News Release Suntory
| | |
| --- | --- |
| Name of product | Suntory SINGLE MALT WHISKY "HAKUSHU AGED 12 YEARS" |
| Sake By | Single Malt Whisky |
| Raw materials | Malt |
| Barrel type | – |
| Number of sales | Limited quantity |
| Degrees | 43% |
| Contents | 700ml |
| Price | 8,500 yen (excluding tax) |
| Release date | Tuesday, March 30, 2021 |
| Manufacturer | Suntory Spirits Co., Ltd. |

Features and current prices of HAKUSHU  12 YEARS
Hakushu 12 is a single malt whisky made using original sake aged for more than 12 years at Hakushu Distillery, which was launched in 1994.
The refreshing fresh green aroma and fruit aroma give it a sweet and soft smoky feel. It is fruity, rich, and features a sharp taste.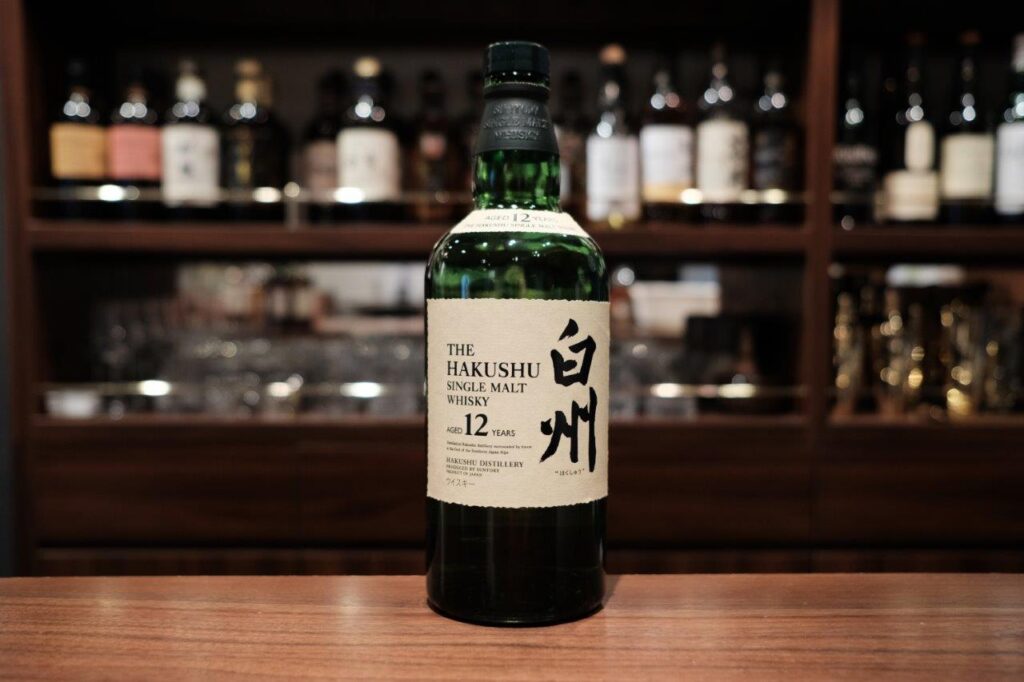 Tasting Notes
| | |
| --- | --- |
| Color | Bright golden color |
| Scent | Young leaves, green apples, jasmine |
| Taste | Plump sweetness, clean taste |
| Finish | Sweet and soft smoky, good |
Citation: Single Malt Whisky "Hakushu 12 Years" Limited Quantity Re-Release Notice Single Malt Whisky Hakuso Suntory
Awards and Awards
Since 2009, Hakushu Has won numerous awards in whisky competitions around the world.
SWSC2016 Gold Award
SWSC2014 Gold Award
SWSC2013 Gold Award
ISC2012 Gold Award
SWSC2011 Gold Award
IWSC2010 Gold Award (Best in Class)
IWSC2009 Gold Award (Best in Class)
SWSC (San Francisco World Spirits Competition)
This is the largest and international competition in the United States, organized by the U.S. liquor industry newspaper Bon Appetit and others. Competing in five liquor categories, the judges include hotelmen, bartenders, restaurant chefs and distribution buyers, and journalists. Leading appraisal professionals from all over the world conduct rigorous blind tastings to determine the awards.
The International Spirits Challenge (ISC)
A competition held in London that attracts attention from around the world. Sponsored by UK publisher Drinks International, it will be part of the whisky, brandy, rum, white spirits and liqueur divisions. About 500 items entered in the whisky category. The judges include master blenders, chief blenders and master distillers from whisky distilleries around the world. After a three-day blind tasting, the awards are decided by a unanimous assembly.
The International Wine and Spirits Competition (ISC)
means: It was founded in London, UK in 1969. It is known as a global liquor competition with history and authority. Along with ISC and SWSC, the award results attract the attention of the global liquor industry every year.
Quote: Award-winning Single Malt Whisky Hakuso Suntory

Holidays and subsequent prices
In Hakushu 2012, due to the recent whisky boom, production volumes and actual demand were not commensurate, and there was a shortage of aged original sake necessary for production in Hakushu 12 years, so shipments were suspended at the end of April 2018 and were closed due to out of stock at stores.
With the sale from 2018, the rarity value of "Hakushu 12 years" will go up at once. It is difficult to
purchase at a list price in mail order, etc., and the price of the seller is also distributed at a premier price of about 4 to 6 times the list price.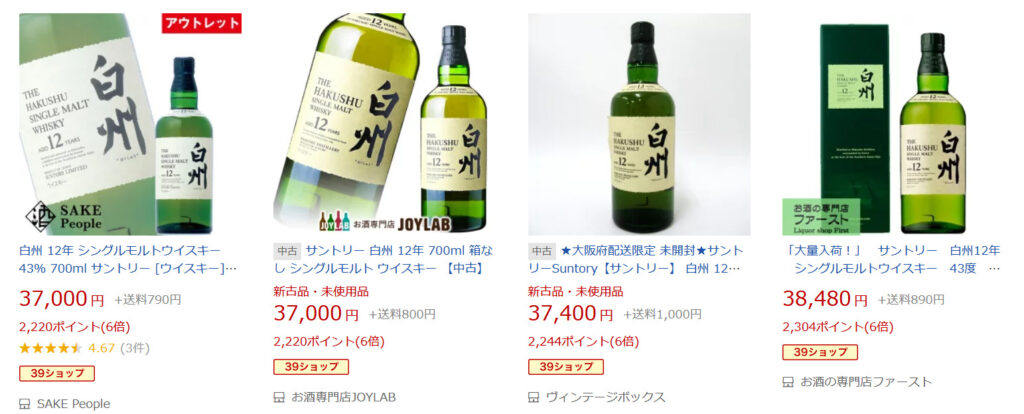 This res sale is also limited in quantity, but the distribution price, which has jumped 4-5 times, may be slightly relaxed. I would like to expect that this resale will be distributed for drinking at home and for offering at restaurants, not for resale purposes.