The Akkeshi Distillery has been recognized worldwide and is becoming more and more famous Increasingly.
This time, I would like to introduce you to "Akkeshi NEW BORN FOUNDATIONS 2" which was released in August 2018.
Prior to the upcoming official commercialization, the NEW BORN series, which will tell whisky lovers about "the present state of the Akkeshi Distillery" is scheduled to have a total of four installments, and the first and second installments have already been released in 2018.
The third and fourth series will be released this year in 2019.
Akkeshi NEW BORN FOUNDATIONS 1 Bourbon Barrel Non-Peated (Released on 2/27/2018)

Akkeshi NEW BORN FOUNDATIONS 2 Bourbon Barrel Peated (Released on 8/28/2018

Akkeshi NEW BORN FOUNDATIONS 3 Mizunara (to be released on 3/5/2019)

Akkeshi NEW BORN FOUNDATIONS 4 Blended (to be released on 8/XX/2019)
The second one I would like to introduce this time is "Peated," which will be the house style of the Akkeshi distillery in the future.
1.Manufacturer
Kenten Jitsugyo Co.
2.Distillery
Akkeshi Distillery (Started operation in 2016)
Hokkaido's second whisky distillery aims to produce whisky like Islay malt.
The Akkeshi distillery opened in 2016 with the strong desire to "make whisky like Islay malt using traditional Scottish methods." The distillery uses equipment made by Forsythe in Scotland.
Like the whisky making process on the island of Islay, water that passes through a layer of peat is used as the brewing water, and the whisky is matured in the cool, moist, and sea breezy location of Akkeshi.
4-109-2 Miyazono, Akkeshicho, Akkeshi-gun, Hokkaido 088-1124, Japan
Kenten Jitsugyo Co.
The distillery tour is organized by "Akkeshi Taste Terminal Conchiglie".
For more information, please visit this page.
http://www.conchiglie.net/tour/whiskey/
3.Product name
AKKESHI NEW BORN FOUNDATIONS 2



¥4,400
(2021/07/29 03:58:26時点 楽天市場調べ-
詳細)
4.Characteristics
The whisky is bathed only peated malt raw materials in bourbon barrels for 8 to 17 months.
This is a spirit made by batting only the heaviest peated raw spirit bottled at 58% alcohol, which is close to cask strength.
President Toita once told a media interviewer, "I was so impressed by Ardbeg 17 years that I decided to make whisky."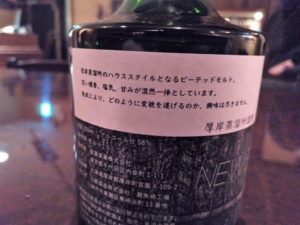 In other words, what the Akkeshi Distillery is aiming for is a smoky peated malt, like the Islay malts of Scotland. Smoky peated malt is made by burning peat as a heat source during the malting stage of the whisky making process.
This peat is not found everywhere, but it is often found in "bogs with low temperatures" such as Scotland, and in fact, Hokkaido's Akkeshi is said to be a good place to find peat because of its similar climate.
As for the aroma, although I can feel the youthfulness of Newborn's maturation, I can feel the high quality as soon as I put it on my tongue. It is clear in a good way with no miscellaneous flavors, and you can feel the solid and heavy peat smoke.
If you let it sit for a while, the aroma will gradually open up. I think there is no other Newborn that has this much flavor.
The tasting notes on the manufacturer's website are as follows.
Nose: Sweet with hints of peat, citrus, bitter chocolate, vanilla and a hint of saltiness.
Mouth: Sugar, honey-like sweetness with lemon acidity.
Aftertaste: Black pepper, cocoa-like bitterness, slightly salty and chocolate-like sweetness.
Type: Single malt
Ingredients: Peated malt (phenolic value: 50ppm)
Alcohol content: 58%
5.Awards
No awards at this time.
6.Price
Suggested retail price: 4,000 yen (tax included: 4,320 yen)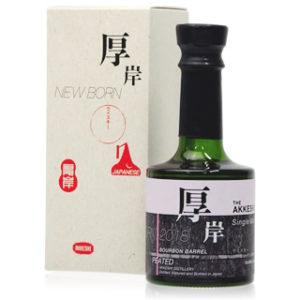 Capacity: 200 ml
The number of copies sold was limited, and most retailers sold out immediately. I'm not even sure if they were lined up in the stores.
When I checked the sales situation on mail-order sites such as Rakuten and amazon, I found that they were selling it at prices ranging from 7,500 yen to 12,000 yen, and it was already at a premium of two to three times the regular price. (As of January 22, 2019)
I think it's because the quality of the product is quite high, despite the fact that it's only been in business for less than two years. Also, I think it is due to the fact that Akkeshi Distillery's commitment to the peated style, which will become the future house style of the distillery, has already been evaluated and recognized.

¥4,400
(2021/07/29 03:58:26時点 楽天市場調べ-
詳細)
7.Summary
President Toita said that the quality of the raw materials, quality control and sanitation at the Akkeshi distillery is being done with the utmost care, and the quality of the raw material is improving every day.
He also said that in the future, he would like to make a house style peated malt whisky using peat from Hokkaido.
The New Born series of whiskies that Akkeshi Distillery produces in various casks and gives us a variety of flavors is a dream come true for whisky lovers.
After this, the third and fourth products of the New Born series are scheduled to be released, so let's continue to enjoy them!